This season was originally Season 1 but due to the fact that it was more of a dry-run season, the moderators have decided to re-package it as Season 0 which would mean that the 24 tributes will be recognized for their achievements, but would be allowed to play once again.
Major Twists
Edit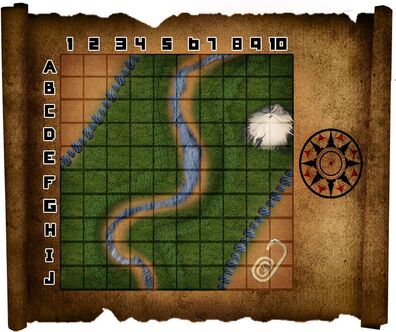 1.)
Map - 
The tributes were each given a map of the arena which they would use to tell the mods their destination.
2.) Heat Wave - On Day 2 the tributes were surprised by an incredibly hot heat wave to a point where tributes would die if they did not consume enough water.
3.) Mind Controlling Fog - On night 2, the tributes were startled with mind controlling fog that trapped their tributes in a hallucination. The tributes were then scattered across the arena.
4.) Force Field - When the tributes awoke from the Mind Controlling Fog, they were shocked to find a giant force field between lines 5 and 6 on the map. Each of the 8 remaining tributes were put on all for corners of the arena (since the arena was divided into 2). The force field was then removed when 2 tributes from both sides died.
5.) Taundra - On Day 4, the tributes were startled when they found out that the arena turned into a winter wonderland overnight. The tributes would end up dying of hypothermia if they failed to build fire.
6.) The Feast - On Day 4. The game makers announced that there would be 2 feasts on each side of the arena.
7.) Avalanche - The tributes were startled with a large lethal avalanche on Day 5.
8.) Volcanic Eruption - On Day 6, it was announced that the mountain on the map was actually a volcano and that it would erupt within 2 days. The only safe zone from this volcanic eruption would be in the cornocopia.
| Placement | District | Tribute | Killed By |
| --- | --- | --- | --- |
| 24th | 6 | Lucas Toft | Szymon Sucharski |
| 23rd | 8 | Celine Vega | Joan Trives |
| 22nd | 2 | Arianna Reales | JP Ungco |
| 21st | 12 | Erikson Montgomery | Blake Bougerolle |
| 20th | 7 | Micah Thomas | Samuel Hall |
| 19th | 9 | Zombie | John Arvin Dollosa |
| 18th | 11 | Randy Johnson | Monkey |
| 17th | 1 | Eddie Thomas | Katherine Abarea |
| 16th | 2 | Charlie Neilson | Samuel Hall |
| 15th | 3 | Jake Riederich | Samuel Hall |
| 14th | 5 | Mark Olasiman | Samuel Hall |
| 13th | 8 | Katherine Abarea | Szymon Sucharski |
| 12th | 10 | Jennifer Naya | Monkey |
| 11th | 9 | Enrique Craft | Szymon Sucharski |
| 10th | 12 | Rick Lowell | JP Ungco |
| 9th | 11 | CJ Komikura | Game Made Disaster  |
| 8th | 1 | Taylor Machholz | Natural Elements |
| 7th | 10 | Samuel Hall | Natural Elements |
| 6th | 3 | Blake Bougerolle | Szymon Sucharski |
| 5th | 5 | John Peter Ungco | Game Made Disaster |
| 4th | 4 | Szymon Sucharski | John Arvin Dollosa |
| 3rd | 7 | Joan Trives | John Arvin Dollosa |
| 2nd | 4 | Monkey | Game Made Disaster |
| Victor | 6 | John Arvin Dollosa | Nobody |